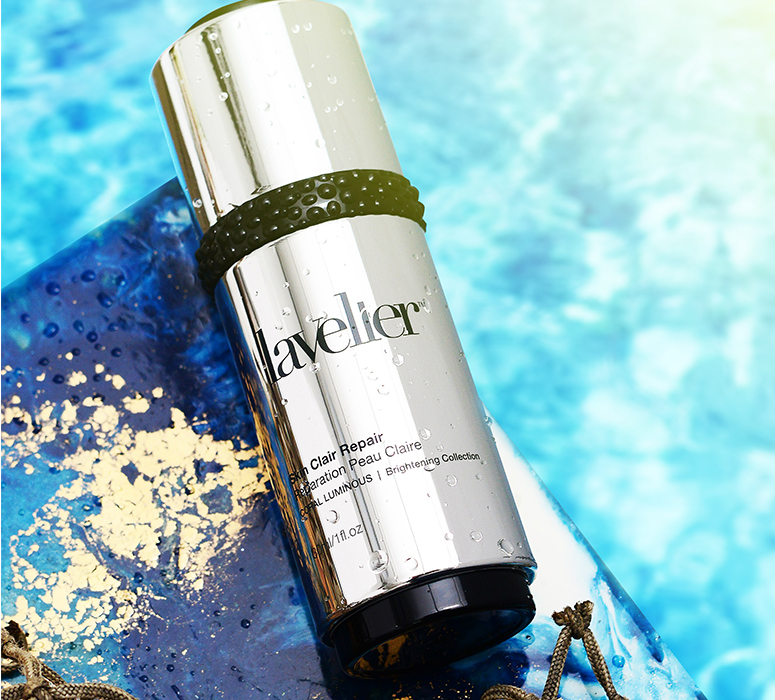 Lavelier's premium Skin Clair Repair is a unique treatment designed to target and reduce the appearance of dark spots, hyperpigmentation and discoloration around the face and neck area. This potent formula contains ingredients such as kojic acid and lactic acid to help reduce signs of discoloration and uneven skin tone, leaving you with a brighter and more balanced-looking complexion.
How to use the Skin Clair Repair:
On freshly cleansed skin, apply a small amount directly on discolored area of skin and leave on overnight. Use nightly. For best results, use with the Divine Day Defense SPF 30.
The Skin Clair Repair is formulated with these top ingredients:
1. Persea Gratissima Fruit Extract (Avocado) — Avocado oil is rich in omega-3 fatty acids and vitamins A and C, which provide an array of skin-smoothing benefits. This well-loved ingredient will help your skin appear healthier and more vibrant.
2. Aloe Barbadensis Leaf Extract (Aloe Vera) — The benefits of this plant are legendary. From soothing harsh sunburns to calming a fierce case of acne, you know you can always trust in aloe vera's relaxing and healing properties. Its longevity-boosting powers are so celebrated that ancient Egyptians called it 'the plant of immortality.'
3. Centella Asiatica Extract (Gotu Kola) — This perennial Asiatic herb has been used extensively in Ayurvedic medicine for healing purposes. Traditional Chinese medicine prizes it for its longevity-enhancing properties, and in some places it is even referred to as 'the longevity herb.' It is an excellent ingredient for temporarily preventing and minimizing the signs of aging.
4. Fagus Sylvatica Bud Extract (beech) — Often called 'the everlasting youth tree,' beech has remarkable rejuvenating properties, thanks to its high concentrations of antioxidants. It is suitable for all skin types.